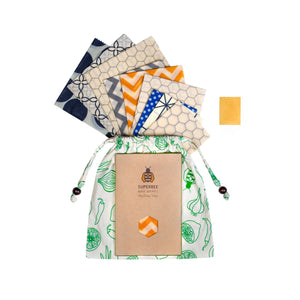 Beyond Plastic
The Minimalist
Description
The Eco-nomic Set is a great way for any home to start living a plastic-free life. It contains a great value selection of 10 of our favourite SuperBee Wax Wraps, in four sizes, perfect for wrapping everything from half a lemon to a giant loaf of bread!
The Eco-nomic Set may not be perfectly packaged for brick and mortar stores but is one of the bestsellers in our online store. We've even thrown in a small Waxing Bar for refreshing the Wax Wraps and extending their usable life.
Each Eco-nomic Set includes: three Small Wax Wraps 20 x 20 cm, three Medium Wax Wraps 26 x 26 cm, three Large Wax Wraps 33 x 33 cm, one Extra-Large Wax Wrap 40 x 50 cm, one Waxing Bar, all inside a GOTS organic cotton Reusable Produce Bag.
SuperBee Wax Wraps are an eco-friendly, long-lasting alternative to plastic wrap. They easily cover food and dishes, forming a tight seal to keep your food fresh, clean and safe without any waste.
Our award-winning beeswax wraps are ethically handmade, sustainable, high quality and certified food safe. Plus, they're antibacterial, washable, reusable and compostable.
Our Wraps are handmade from:
• 100% Organic GOTS certified cotton
• Beeswax
• Tree resin
• Organic coconut oil
Country of Origin : Thailand
---
分享產品
---