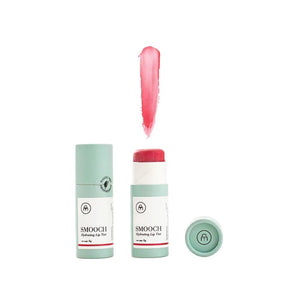 zeroplastichk
SMOOCH Coloured lip balm
Regular price
$19.00
$0.00
Unit price
per
A hydrating lip balm with a sheer tint packed with natural emollients, quietly cheering yet soothing. The subtle crimson of SMOOCH will nourish with extra deliciousness to your (already) flawless lips. And here's where it gets wild: have you ever considered using a lipstick as a highlighter for your gorgeous cheeks? SMOOCH is like a blooming rose, so delicious you'll want to kiss yourself. Cheeks or lips, it's a natural shimmer that nourishes and protects.
Size: 0.28oz / 8g (basically, double size of a standard lip balm)
Ecolicious packaging Zero-waste packaging made out of paper tubes rolled by hand using cardboard lined with food-grade wax paper on the inside. We aim to replace current labels with biodegradable materials.
Goodness Only
Cruelty-free
Vegan
No Petroleum-based ingredients
No Sweetener
No Preservatives
No Parabens
No FD&C dyes (aka Synthetic Colours)
No More Flaky Lips!
No Fragrance
Slowly Handmade.
We are all about Sustainable Living and choose Clean Beauty Love it Natural & Wild.
---
Share this Product
---